EPF - Training made Easy
Training is a universal phenomenon and there are several challenges faced. One of the primary challenges faced in mass training is maintaining the quality as well as the consistency of the training material. Traditionally, Power Point presentations are created. These are then distributed to the trainers, who are typically located across a large geographical area. And as and when changes take place, and in most cases this happens as often as several times a month, these are communicated by mail, and the trainer is expected to make the changes. What has been found is that this process is difficult to monitor and several inconsistencies happen.
The second problem that takes place is that there are several versions of the same presentation available and quite often, an older version gets used. And finally, in cases of multi session training, there is major confusion and wastage of training time in locating the right presentation. Amongst several other limitations, there is also the limitation of the presentation being linear in nature and hence not amiable to spontaneous change by the trainer. Another limitation is the ability to seamlessly use surround material, such as applications, websites, et al.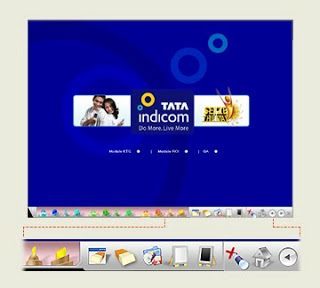 EPF was created to overcome all of these limitations. Add a few necessary tools. And make training material, easy and effective to use. EPF is a training tool that embeds presentations (Video, Flash, PowerPoint, etc.) and makes them all available to the trainer in an easy-to-use manner.
EPF solves the following customer need, essential in effective training:
Consistency in Training

Non edit ability

Ability to easily access required content

Ability to easily access online content

Ability to access and use external applications

Ability to convert projection into white or blackboard

Ability to highlight or mark content being displayed

Ability to magnify certain areas being displayed
And in case you're wondering EPF is an acronym for Executable Presentation Format. EPF has been successfully used by over 4 leading telecom BPO providers. We love the product. But that's not important. What's important is that the users have universally loved it. Here's what one of them had to say:
"The EPF as a training delivery vehicle has been a huge success in terms of what it was designed to achieve for us -
Visual appeal

Ease of use for the program facilitator (therefore learning delivery)

Very high navigability across width and depth of the program schedule (10 days +)

Ability to support other training tools (videos/emulators etc) which become an integral part of the EPF

Non-Editable feature - ensures program content consistency

Security features for IP protection"
We have been using the EPF over almost a year across multiple locations, end users and facilitators with considerable success. Thanks to the support we have received from you and your team the project has been a great success.
And finally, the EPF was responsible for us making it to Nasscom's IT Innovators list.